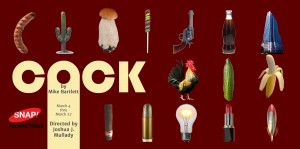 Today on the show we sat down with Joshua Mullady, Director of COCK which is in it's final weekend of performances!  If you are looking for a thought provoking, prevocative, word fight and battle for love then this play is for you!  Written by Mike Bartlett, COCK will challenge your views of love, sexual identity, to cheat or not to cheat, and you the notion if something is worth loving it is worth fighting for!
If you do not see the player above click HERE and listen to the episode on podomatic.

I personally saw the show and felt the acting was brilliant!  The central character, who by the way is the only character with a name, is John and he is in love with M but they fight a lot and have a number of differences which don't always leave John feeling like an equal.  On a break John meets W and as they dance with their dialogue he begins to find himself falling for W!  But, he can't stop thinking about M.  As the story unfolds it becomes a duel to the end.  No death occurs, but perhaps the metaphorical death of outdated notions of sexual identity!  So, challenge yourself!  Listen to the interview as you run over and buy tickets for the show!
Or as you listen go check out SNAP! Productions website for more information about the diverse theater productions they bring to Omaha.  And then after you are done listening to this show go and listen to our interview with Michal Simpson, Artistic Director of SNAP! by clicking here.
Thanks for listening and enjoy the show!