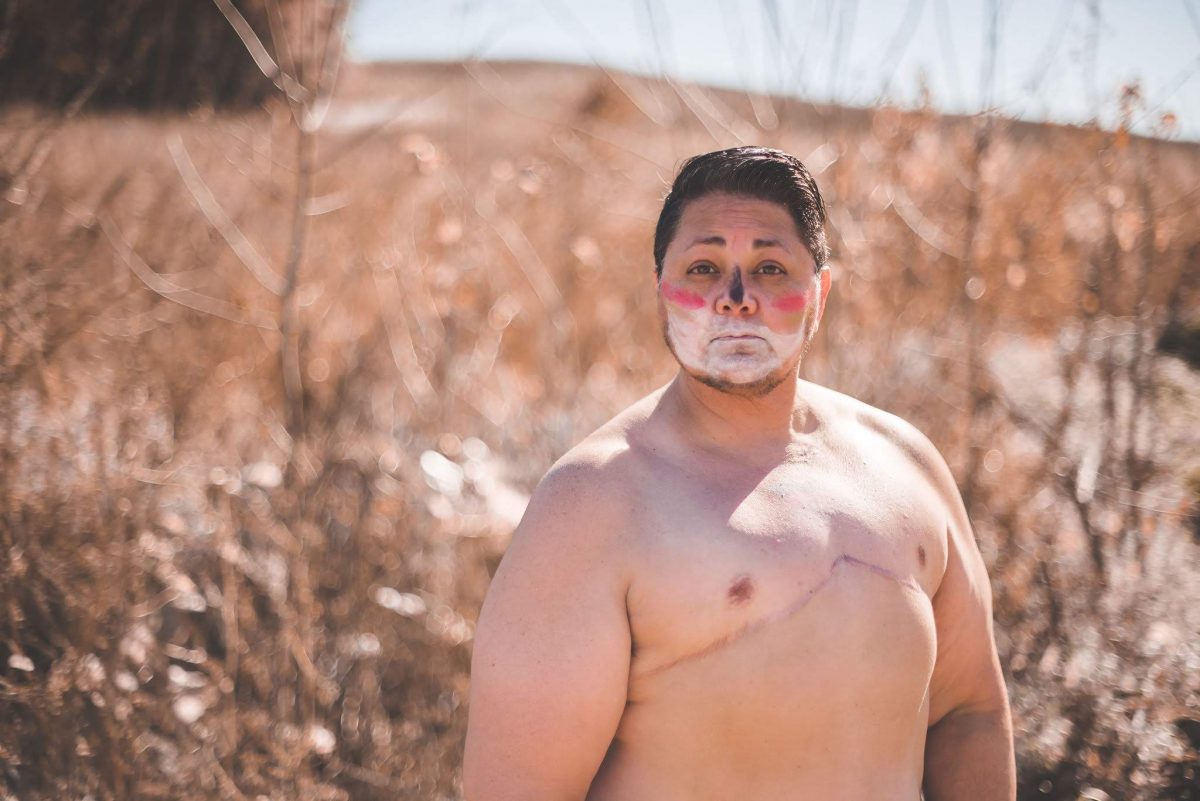 Spirit of a Leader
January 22, 2019
Originally published here https://www.facebook.com/rigatuso/posts/10156988833223523?tn=K-R

I wrote this a few days ago and shared it exclusively on my patreon page (the link to read the post is included). There is so much more I wanted to write and share but I believe in light of today's events in DC the Great Native Spirits know the time is now. I am listening to them.
I do not own the rights to the music I used in the video clip below. Please go and support Frank Waln and buy his music. I bought all he has created and the song I used here speaks volumes to my journey on this earth as well as my awakening and true desire to be me and create open and affirming environments for all transgender, non-binary, and gender non-conforming folks in our world.
My journey has been a complex one and most recently I have found myself working toward honoring my gifts. I am not doing this as a show. I am doing this as a deep spiritual connection to my people, to the land and because all of my identities are valid and my story matters. I try to meet people where they are at and have done a great deal of work along the way to become the best human I can be.
The messages I was given are not new today. They have been percolating in my unconscious as well as my conscious mind for years. But my own fears stopped me in so many ways and so many times throughout my life. Plus, I have allowed the "laws of the white people" to silence me.
I painted my face the day I did this shoot. I researched war paint and decided to paint my own hand white and then place it over my mouth because that is what I had seen in my research.
Little did I know the intensity of feeling that would present itself in that act. I stood looking in the mirror with my hand over my face and began to cry. I was sobbing almost immediately. Sobbing at the ways my culture and heritage were not only stripped from me but also the ways in which I have "bought into" the belief that I was a savage and that if I just acted the right way I would be respected.
Years of personal experience have shown me otherwise. And I am reclaiming the word savage because to me it takes great bravery to stand in the face of ZERO agreement and keep forging forward and speaking one's truth. And honoring those who show up on my path.
My sobbing was finally witnessing in that moment the ways in which my identity had been stripped from me but I was also sobbing at the ways in which I also silenced myself by buying into the messages of folks who saw me as less than.
I almost canceled this photo shoot with my friend Sam Jacobs out of an intense fear of showing my true self, exposing my chest proudly, and not fat shaming myself and reclaiming who I am. But he was so gracious and kind so I could hardly say no! Also, the irony of the white man capturing my image is not lost on me. But he listened to what I had to share and he captured some of the most powerful images of my spirit, MY TRUE SELF. He is a good human and I love him and I am so grateful we are connected and he brought these images to life. And now I share this all with you!
I would love to personally thank the following folks who have become patrons on my page and literally pay me monthly to share these things with them. It isn't a large amount of money but the truth is the fact they came to support speaks volumes to me. The fact they are interested in what I am doing speaks volumes to me.
Thank you Ben Cass, Chris Winter, Joe Shaw, Dominique Morgan, Kacie Ware, Frank Kubat and John D. Muñoz for investing in me! I love you all so very much!
#indigenous #NativePride #LeadWithLove #MyGifts
Thoughts on Toxic Masculinity originally posted on my patreon page along with this video
I think the greatest fear in regard to the topic of toxic masculinity is those who are literally brainwashed by the binary! Humans would do well to see that the same system that created the binary and literally attempted to erase the gender spectrum is the same system that created the delineation of traits and relegated them to either masculine and feminine. And in some cases, we have also placed those traits along with their label of masculine or feminine into the binary of good and bad.
Right now and for probably as far back in time as you or I can imagine we have been assigning certain personality traits to masculine or feminine. We have forced ways of being for what makes a woman a good woman and what makes a man a good man. And there is literally NO difference between the two. What makes a good human a good human? However, you would answer that question would apply to everyone.
Those who are the most toxic right now are predominantly of male bodies but the truth is they are also of female bodies and all kinds of configurations in between.
Our body parts are just that parts. Who we all are, how we live, express, act, treat others, has ZERO to do with gender. We are talking about HUMANIZING all folks and allowing the rainbow that makes up who we are to shine.

Those who DO NOT and CAN NOT or REFUSE to acknowledge this simple fact will get left behind. We all have the ability to be TOXIC. We also have the ability to be loving and kind. But we must acknowledge the system that got us here. And acknowledge the lives that have been lost because of this system! The identities that have been stolen. The cultural practices, languages, expressions of the Black and Indigenous People of Color.
The system is white supremacy. We all possess varying levels of it. And if you are unwilling to grapple with that fact, you are unwilling to change and create a world where all folks can thrive as opposed to merely survive.
We all deserve so much better than the petty farguments (Facebook arguments) we find ourselves in from day to day right now. But the fact of the matter there is WORK to be done. Serious internal reflection work to be done. A willingness to NOT KNOW the answers. A willingness to go deep. To sit with the discomfort.
If you have ever felt as though there is something standing between you and the things your heart dreams of, the answer will be found once you seek within yourself and acknowledge the things YOU have done to STOP you from succeeding. But for BIPOC we also need to acknowledge the fact that we were way down the block, around the corner, down another street, up a large hill, and across a long valley away from the starting point of the race to begin with.
At some point in your life, your spirit was shattered. Go to that place. The answers will be found there.
Eagle Heart, Two Spirit of the Menominee Nation, Great Great Great Grand kin of War Eagle. Here to reclaim what is mine. What was passed down to me through my DNA. I possess the heart of a warrior who has always stood courageously in LOVE.
Music on the video is called Victory Song by Frank Waln Frank Waln, or Oyate Teca Obmani is a Sicangu Lakota rapper. The winner of 3 Native American Music Awards and recipient of 5 nominations, both alone and with his group Nake Nula Waun, Waln grew up on the Rosebud Indian Reservation and first began listening to hip-hop as a teenager. Please consider purchasing his music and supporting his artistry here http://frankwaln.com/shop/